I was travelling back from a long day delivering training in Sheffield recently when I remembered that I'd seen an eventbrite invite for a Charity Meetup networking event. I had a little conversation with myself (come on, we all do it) which went a bit like this: "Alice, you've just gone freelance – this is exactly the sort of event you should be going to…" And in reply: "But I'm tired and hungry and networking can be so, well, awkward, do I really have to?" I'm sorry to say that 'negative me' won and I started going down the escalator in the direction of home. But then 'positive me' got cross with 'negative me' (it does that sometimes) and so, (second embarrassing admission) I got to the bottom of the escalator turned round and promptly went back up again. I'm pleased I did.
The venue was welcoming and cosy and once I walked in the door I got chatting comfortably to a mix of interesting people including graphic designers, researchers, film makers and communications specialists. Then
Dawn
Newton
, the organiser, asked us to stand in a circle and tell the group something about our work that we were proud of. It was moving to watch people open up and share their achievements. We are somewhat reticent in the charity sector and blowing our own trumpet doesn't come naturally but by the end of the exercise we were all glowing with collective pride!
It was a worthwhile exercise and was the catalyst for a series of conversations that followed. It was a chance for me to share something that I'm really proud of: that alongside a traditional written research report, I also wrote a graphic novel about migrant integration which has influenced local government policy and is now being used by hundreds of people as a community training resource (see:
https://alicesachrajda.com/publications-creative-outputs/creative-outputs/
).
It would have been good if more charity sector employees had come along. I think they would have benefited from meeting such a diverse group of people buzzing with creative ideas and passion for the social sector. I'll certainly be encouraging my charity contacts to come along to the next Charity Meetup themed around innovation on 4th February.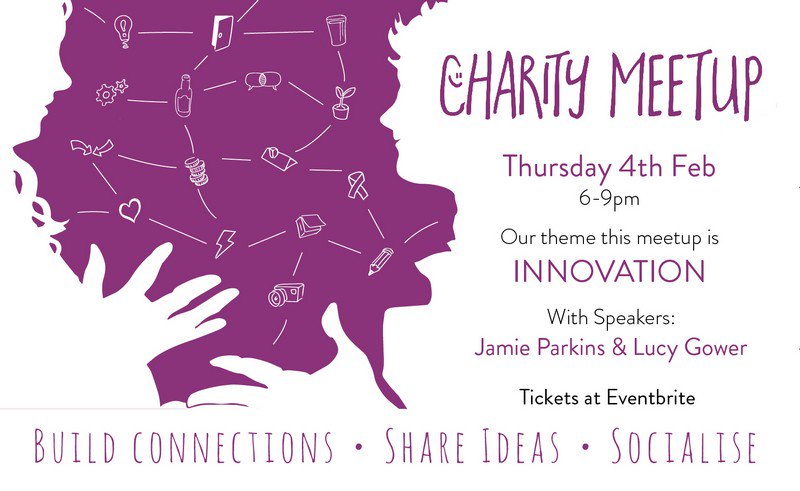 I've since connected with lots of the other participants on social media, met several for coffee, invited two graphic designers who were there to pitch for a commission and I'm discussing a potential collaboration with another researcher who attended the event. I'm glad 'positive me' won out in the end.